On test...
Bottoms up for bumbags
By Colin Hogarth and Andrew Jarret
Bumbags offer a very viable alternative to rucksacks on spring and summer day walks when you don't have to carry the same level of cold weather equipment you would during the winter. They are also ideal for scrambling (allowing more freedom of movement for upper limbs), trail running and mountain-biking. We tested our selection of six across a range of terrain, from low level strolls to a traverse of the Rum Cuillin. We put together all the gear we needed and tested each one to find out how much we could get in. Our basic essentials (pictured) were: a lightweight waterproof jacket, lightweight long-sleeved fleece top, lightweight trousers, an OS Landranger 1:50,000 map, a compass and whistle, a small first aid kit, water/juice, a filled roll, assorted Mars Bars and biscuits, a packet of crisps and a bag of nuts and raisins, a Canon Sureshot Z135 camera (the single heaviest item) a spare role of film and car keys.
The first thing you realise when you pack a bumbag is that not everything has to go inside the main pocket. Some come with external pockets for water bottles (and two of our test models had their own bottles), some with pockets on the waistbelt, suitable for small items like a compass, Mars Bars, or car keys, and some have shockcord to attach items like your waterproof jacket to the outside. Another idea to save space in the inner pocket (provided it's a dry day) is to drape your lightweight top over the top of the bumbag and down the back so it sits between the pack and your back.
Here are our panel of six, reviewed in alphabetical order...
---
Craghoppers Dri-Pac 7
Capacity 7 litres + extension. There are also 5 and 12 litre models.
Back system Padded
Colours black, blue, dusty green
Price £25
The new Craghoppers Dri-Pac was my faithful companion on two fairly strenuous outings to Rum and Arrochar recently. Both these trips involved a degree of scrambling and that's where the bumbag really comes into its own. For a start your upper torso is free of any dead weight, unlike with a conventional rucksack, and your arms and shoulders are unburdened by any bondage giving excellent free movement. You can squeeze a fair amount into the Dri-Pac by unrolling the top (which has a handy Velcro fastener) which also has the benefit of spreading the weight around the lower back. There's room enough in there for a pair of waterproof trousers, hat, gloves and food. It has two stretchy fabric side pockets to hold drink bottles with additional straps to make sure that nothing falls out. An adjustable cord on the front allows storage and easy access to a rolled-up waterproof jacket. The front also has a handy wee zipped pocket, ideal for things like car keys which all too easily can be lost in the heather as you haul out your layers when the weather closes in. The back is nicely padded with a perforated cushion to aid comfort and generous straps fit round the waist with simple plastic clip fasteners. The inside of the bag is lined with Craghoppers' Dri-Pac Technology material which means that it's waterproof. I can confirm this to be the case after one of Rum's famous downpours left me soaked but my sandwiches intact! The Dri-Pac has become a worthy addition to my equipment hoard and one which I intend using frequently throughout the summer. For day walks it is more than capable and I'm not looking forward to having to lug the old backpack on again!
---
Karrimor Hydrolite 7
Capacity 7 litres
Back system Coolmax, body hug belt
Colours petrol/charcoal, royal/black, wedgewood/pewter, sage
Price £19.99 including bottles
The first outing for Karrimor's Hydrolite 7 was on a traverse of the Rum Cuillin. On such an expedition I would normally load up a full rucksack. However, as the weather was fair and settled I decided if I could get enough stuff for the day into this. The main pocket accommodated a map, a pair of lightweight trousers (I was wearing shorts for the trek due to the sunny weather), a compact camera, two sandwiches, crisps, nuts, a small first aid kit and a very lightweight long-sleeved top. The two side pockets took my compass and whistle, four Mars Bars, two spare rolls of film and an assortment of biscuits between them while, on the drinks front, the Hydrolite 7 comes with two half litre bottles which slip into two mesh-based side pockets, each with cords to keep them securely in place. Shockcords on the rear of the pack held a lightweight waterproof jacket securely. In short, I could pack plenty in. Using this pack on a route like the Rum Cuillin traverse - where some scrambling is required - rather than a conventional pack, gave me much more freedom of movement for my arms and the Hydrolite, with its padded waistbelt and back, proved to be very comfortable and stable and served me very well on this and subsequent outings. This is a very tough, well put together piece of kit at a very good price.
---
North Cape Slipstream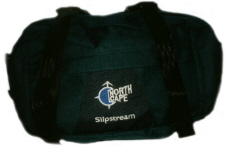 Capacity 7 litres plus two hip pockets
Back system Padded
Colours Rivergreen
Price £19.99
The North Cape Slipstream boasts a practical, no-nonsense design with plenty of space to pack stuff in. There's a deep main pocket which comfortably takes waterproof trousers, a lightweight top, camera, food, drink and other bits and bobs. The dimensions enable you to get an OS map in without having to fold it in half too. It fastens using a two-way zip with extended cord toggles, making for easy access. A smaller outside pocket is big enough for your compass, car keys and other smaller items while there are two small hip pockets on the waist strap, large enough for similarly sized items. All the pockets are zipped and all have extended cord toggles. A very useful feature is the two adjustable straps which fasten up and over the pack and are ideal for attaching your waterproof jacket and can be used at the same time to compress the pack and pull the weight in towards your back. Adjustable compression straps on each side assist this task. The back is well padded with a ventilating fabric and the wide waistband make this a very comfortable pack to carry, even when fully loaded. This was one of the most comfortable and stable waist packs I've worn - the weight is well distributed and the Slipstream hugs the body well. It is excellent value too.
---
Regatta Waistpack
Capacity 7 litres + 10 litres extension
Back system Breathable mesh back
Colours laurel, black, birch, navy
Price £15
Full marks to Regatta for innovation. Their Waistpack offers much more flexibility than the other bumbags in this test in that it can be quickly converted into a 17 litre rucksack. The top pocket contains a fold-out 10 litre extension, complete with lightweight mesh shoulder straps which clip on to the waist belt. Having been used to padded rucksack straps, I wondered whether these would be comfortable for a day's walking. Initial concerns were, however, quickly dispelled when put the sack on and it proved to be very comfortable indeed. The basic bumbag has a seven litre capacity into which we managed to pack a map and compass, lightweight waterproof, a sandwich, Mars Bar, packet of crisps and a compact camera. The mesh pockets on each side are a wee bit small to hold a half litre water bottle securely, but you can get a carton of juice on either side without worry that they will fall out. As my first use of this sack was on the Pap of Glencoe on a changeable day, the expansion allowed me to add a lightweight fleece and a pair of over-trousers to my load. The Waistpack is a very flexible piece of kit, offering a bumbag for those travelling light with the added bonus of being able to turn it into a lightweight rucksack within seconds. A great price too.
---
Wynnster Waist Sack & Bottles
Capacity 7 litres
Back system Padded with adjustable waist belt and quick release buckle
Colours Blue or green
Price £13.99 including bottles
The two Wynnster waist packs we tested are similar in some respects, but completely different in others. The Waist Sack comes complete with two plastic drinking bottles which fit snuggly into insulated carriers on each side of the main pack. Adjustable cords ensure they stay securely there and there's mesh at the bottom to allow any dribbles to escale. The main pocket is large enough to carry your kit and there's a zip up mesh-based pocket on top for things like your compass and car keys. All of the zips have shock cord extensions. The padded back on this Wynnster pack is not as advanced as the one of the company's Tourer 10, but it couldn't be criticised on comfortable or stability with compression straps on each side allowing a fair degree of adjustment. Of the two Wynnster waist packs, I found the Tourer 10 the more comfortable and stable to wear. But the Waist Sack has the benefit of the two bottle carriers which means you can carry plenty of fluid without losing any space inside the bag itself, all important on hot summer days when liquid is vital. Weight-wise, the Waist Sack is lighter. The Waist Sack is the least expensive of our bumbags and offers exceptional value and performance.
---
Wynnster Tourer 10
Capacity 10 litres
Back system Airflow Back System with adjustable padded waist belt and quick release buckle
Colours Stone, navy, black, sage
Price £20.00
The Tourer 10 doesn't have the bottle pockets of the Wynnster Waist Sack, but it does have a larger main pocket, thicker padding and a more stable load carrying system. It hugs the back very closely and is extremely comfortable to carry, thanks to the excellent Airflow Back System, the well padded waistband which fastens with a large plastic quick release buckle and the side compression straps. The main pocket is squarer in shape than the other bumbags on test and is big enough to take waterproof trousers, a lightweight top, camera, OS map and an assortment of food. Inside there's a small zip pocket which will hold a wallet and car keys securely. There's also an elasticated strap designed to hold a water bottle in place to prevent it bouncing about during active sport, a handy feature. Both zips on the main pocket have extended cord toggles to make access easier and the Tourer 10 has a strap on the top for picking it up. Adjustable shock cording on the front can be used to hold a waterproof jacket. The Tourer 10 is made from very durable fabric and has a superb level of adjustment to ensure a perfect fit, although the extra padding makes it slightly heavier than the Waist Sack. Overall, very comfortable and stable with bags of space inside.
---