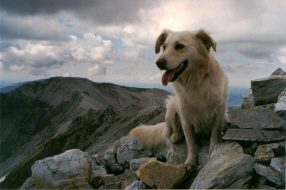 Packs for pups...
It's a dog's life
By Colin Hogarth
In the early days of exploration - before the advent of the internal combustion engine - man relied on the horse and the dog to meet his motive power and load hauling needs. While the noble horse has all but been replaced, at least in the developed world, by metal beasts like the Land Rover, the dog still has his part to play, most notably in arctic climates where husky-drawn sleds are sometimes the only reliable form of transport.
Here in the UK, the hillwalker's dog has an easy life. While his master lumbers on, weighed down by a heavy pack, Fido enjoys the healthy outdoor life largely unburdened. I've lost count of the number of times I've returned to the car at the end of a long trek in the mountains, only to find my dog, Kishorn (pictured above), straining at the leash and raring to do it all over again.
So, in the spirit of equality, I decided to investigate whether it was feasible to share my load with my faithful (most of the time) friend. Perhaps he could carry his own food, treats, water bowl and leash. To this end, and after much searching, I managed to acquire a 'dog pack'.
Common in America, they seem less readily available here in the UK. Scouring the local pet shops drew a complete blank, as did a trip round the outdoor shops. Finally I managed to source one by mail order from Watford-based 1000 Mile Sportswear Ltd.
They are the UK distributors for Outdoor Products who make Dog Packs (pictured right), available here in Britain in two sizes - small (for dogs up to collie/spaniel size) and medium (for dogs up to English sheepdog size). The small pack has a 15-litre capacity, while the medium one offers 20 litres of space.
Kishorn is a cross collie/golden retriever, so I opted for the small one. Both sizes are designed in a saddleback style with two main pockets, one on either side, like bicycle panniers. A breathable mesh panel between the two pockets goes over the dog's back and, rather ingeniously, this doubles as a third, smaller pocket. Adjustable buckle straps fasten round the dog's chest and these have a fleece trim to prevent the buckle rubbing against pup's underside. Compression straps are provided to secure the load.
The Dog Pack is made from heavy duty Cordura Plus nylon and has a single zip (with cord extensions) on either pocket. It proved to be very waterproof.
Advice I obtained before attempting to fit Kishorn with his new pack was that a well-conditioned dog should be able to carry 25%-30% of his own weight. The best plan is to start with lighter loads and work into this range.
When fitting the pack you should be able to get two to four fingers between the harness straps and the dog. A properly designed harness will ensure the pack rests on the dog's back without sliding forward or backward. Occasional side-to-side movement means the load needs to be balanced up. If the dog is getting sore or there are noticeable wear areas the pack is either too tight or too loose.
Initially I strapped the empty pack on to Kishorn in the house, more to gauge his reaction than anything else. Fitting was easy (once I'd convinced him to stay standing up) and there was a good level of adjustment in the straps.
And his first impression? A rather blank stare, as much as to say: 'what on earth do you think I am, a packhorse?'
I was advised to immediately engage my pup in a fun activity to distract his attention from this odd new thing on his back. Apparently fun and positive experiences while wearing the pack will help the dog quickly make the connection that the pack is an indication of fun times ahead. But he wasn't having any of it.
However, once in the great outdoors other distractions ensured he forgot about the pack pretty quickly. I started him with a very light load and added a few things each time we went out. He seemed to get the measure of it fairly early on but, that said, was happier without it.
We'll probably use the pack from time to time, but only for small loads. How you fair will depend entirely on your dog. Through training it should be possible to get most medium to large dogs used to carrying a pack.
Outdoor Products is based on Los Angeles and the company's Dog Packs are distributed in the UK by 1000 Mile Sportswear Ltd.
| | | |
| --- | --- | --- |
| Size | Colour | Price |
| Small (dogs 20-40lbs) | Red | £29.99 |
| Medium (dogs 40-70lbs) | Cobalt | £32.99 |
Contacts
1000 Mile Sportswear Ltd, 12 Shakespeare Industrial Estate, Shakespeare Street, Watford, WD2 5HD. Tel 01923 242233. www.1000mile.co.uk
Outdoor Products, 1919 Vineburn Avenue, Los Angeles, CA 90032. www.outdoorproducts.com
Other Dog Pack manufacturers
www.wolfpacks.com - US company offering packs from £54.00
www.ruffwear.com - US company offering packs from £62.00