Beat the winter weather blues
The winter arrived and so too did a batch of waterproof jackets for walkscotland.com to test. We zipped ourselves up snuggly and headed for the mountains to put six contenders through their paces.
The brief was easy - to test a selection of waterproof and windproof jackets in the £100 to £200 price bracket suitable for winter walking - low and high level - and backpacking in Scotland. Each review includes a hyperlink to the manufacturer's website. Here are the results:
Berghaus Tornado IA.
Made of DriAqua breathable and waterproof laminate, this is a lightweight, comfortable and flexible jacket with a good high collar and roll-away hood. It performed impeccably in gales and driving snow. There are four zipped pockets - two chest and two lower - plus a good sized internal map pocket. The two-way front zip has a tag to make it easier to grasp and the stormflap is secured with press-stud fastenings. The two base and two chest pockets are zip fastened and the base pockets sit at a comfortable angle. The hood is easy to adjust and despite having no wire stiffeners it has a volume adjustment and it stayed up in the wind and didn't obscure visibility. The toggles at each side are fixed to prevent them flapping in the face. The Tornado has a good flexible fit, with plenty of room to move inside, although this is easily narrowed down for the thinner person using the waist and hem cords. It rolls down into a nice small, lighweight bundle for stowage. Available in blue/black and red/black. Sizes: S-XL. £150. Plus points: Light, comfortable and well designed. A good quality product at a good price. www.berghaus.com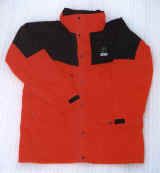 Craghoppers Serow.
The Serow is made of Aqua Dry, a waterproof and windproof fabric, and the mesh inner is designed for breathability. It's one of Craghoppers' most popular jackets and has been updated for 2000. The Serow performed well on all counts and has a comfortable, roomy fit with good wide shoulders, although we felt the cuffs were a little tight, even with the Velcro adjustment. The articulated elbow and shoulder/arm extension allowed easy movement within the jacket. The main full-length, two-way zip is easier to use than many and the large rubber zip tag was easy to get hold of, even with gloves on. The base pockets have a welcoming fleece-feel lining which is a good idea, although the pockets tended to ride up when the hands were being withdrawn. Access to the zipped base pockets, covered by a flap and single stud, was also a bit tight. The internal map pocket is a good size with an easy to grasp zipper. The peaked, wired hood, which rolls into the neck when not needed, is roomy, easy to adjust and stayed on well in wind. The Serow is lightweight and packs down into a small bundle for stowage. Colours: scarlet/black, yellow/black and gold/black. Sizes: S-XL. £140. Plus points: Lightweight, comfortable, looks good, with some nice features like the pocket lining. www.craghoppers.co.uk
Paramo Scala.
A popular jacket with good attention paid to detail in its design. It's a fairly classy piece of kit and certainly stood up to horrendous Cairngorm weather. Even in good weather, its adjustability won't leave you overheating and the hood is detachable. There are three main pockets plus an internal map pocket under the full length zip stormflap. The polyester-based outer fabric (Nikwax Biological Analogy) is very soft to the touch but seemed suitably durable and comes with care instructions. Colours: ultra/navy and sea green/navy. £170. Plus points: Good design and durable fabric.
Rab Shivling.
The Shivling has a DownPour 2-Ply outer with Coolmax inner and mesh lining and is available in separate male and female versions. We tried out the ladies' one and were impressed by the comfortable, well cut fit. The jacket is designed in such a way that when you're reaching upwards with your arms, the hem stays down and this works very well. The DownPour material has a substantial, protective feel about it, yet movement is very flexible. This is another jacket with a Velcro fastening down the front, supplemented with four studs. The zip itself has a good, easy to grab tag, as do the zips on the two base and two chest pockets. The hood is fully adjustable with a stiffened visor, but unlike the other jackets it doesn't roll away. There are waist and hem drawcords and Velcro cuffs. The Shivling comes with its own little bag for storage. Colours: blue/grey, red/grey and sage green/grey. Sizes: S-XXL (men) and 8-16 (women). £160. Plus points: Excellent fit, design and performance. www.rab.uk.com
Regatta Fairfield.
The Fairfield joined the Regatta X-Ert range of performance outdoor clothing in Spring 1999. It is a breathable, waterproof, windproof four-season jacket made from in Isotex-coated Oxford Taslan with mesh lining for greater breathability and wicking. The wrap-around, wired, peaked hood with volume adjuster is easy to adjust and stayed up even when walking into the strongest wind. The Fairfield features reinforced shoulders and elbows and has an adjustable shockcord waist and hem and adjustable cuffs. The two chest pockets are roomy and the two base pockets are roomy and placed at a good angle for hands. There's also a map pocket. As with the majority of jackets, the Fairfield has an interactive zip system so you can zip a fleece in. The jacket is the heaviest in our group test and is fairly bulky for packing away. The outer material is fairly stiff but caused no comfort problems and didn't restrict movement. Excellent performance at a very attractive price. Colours: sage green/black, scarlet/black, ink/black, dark beige/black. Sizes: S-XXL. £100. Plus points: Impressive all round performance at a very good price. www.regatta.co.uk
Wynnster Nevis.
We could find nothing to fault in the Wynnster Nevis which is made of Sympatex and is the company's top of the range jacket. Our testers were particularly taken with the stylish, fuss-free design. It is a very comfortable jacket with roomy shoulders, good length sleeves and easy to adjust cuffs, although was a little tighter round the waist then others in the group. There's a good roomy hood which sits comfortably over a hat. It has a small peak and wire-former. The toggles at each side are fixed to prevent them flapping about in your face. A nice touch is the fleece-lined collar. The main zip, again two-way, was easy to use and a particular plus point is the full length Velcro fastening down the front which was quick to do up and undo and proved very secure. The hood also has a Velcro chin fastening which allowed for greater flexibility than studs. The fabric is light and soft, but hardwearing and it folds into a nice small bundle. Sizes: S-XL. £175. Plus points: Stylish and hardwearing with good features. www.wynnster.co.uk
Conclusion:
The six jackets were tested in high winds, driving rain, snow and sleet on the Scottish mountains during November and December and all proved to be windproof and waterproof, all meeting expectations on the performance front. The Berghaus Tornado is a good, lightweight jacket that performed impeccably in all conditions we encountered. The design is good and we could find no fault. The Wynnster Nevis provided the most pleasant surprise. It's a brand that lacks the image of some of the better known rivals, but the Nevis has a heck of a lot to commend it. The style and cut are excellent and there's good attention to detail in what is a very comfortable jacket. The Rab Shivling has a quality feel to it, one that inspires real confidence when you're out in the wilds. It took the most extreme weather we could find in its stride and put some of the more advanced and more expensive mountain jackets we've worn in the past to shame. We liked the Craghoppers Serow for its design, feel and little attentions to detail like the lined pocket. We felt the Craighoppers and Berghaus models tested would provide the best all year round package - light and compact enough to stow in the bottom of the sack during the summer, but substantial enough to dealing with anything a winter expedition can throw at it. The Regatta Fairfield was the heaviest of the six with the stiffest feel to the material, but it was very comfortable and held its own admirably, proving that a jacket shouldn't be discounted just because it has a low price tag. The Paramo Scala proved to be hardwearing, despite the rather soft feel of the fabric.
A word of advice.
At the risk of teaching old granny to suck eggs, when you're buying a jacket, make sure you try it on in the shop before you buy to make sure you get a good fit. Try on different sizes until you find the most comfortable and remember to try your prospective purchase on over several layers including a jumper and a fleece as, more often than not, this will be how you will be wearing it in the outdoors. Don't be baffled by the various different fabric names you'll encounter, such as Sympatex, Isotex and DownPour. These are just different materials used by different manufacturers to do the same job. All modern garments boast that they are breathable, but remember this is no guarantee you'll stay completely sweat free as your perspiration has a fraught journey to freedom through other layers which may not be breathable. When it comes to colour, personal choice dictates. Some of the manufacturers use rather fancy descriptions, so we've translated these into the basics. Prices given are recommended retail prices. Finally, thanks to all the companies who supplied jackets for this group test and to our team of testers who braved the elements. All registered trademarks are acknowledged.